This page is also available in: Spanish
The Five Cuban anti-terrorists, unjustly imprisoned in the United States were awarded the honorific title of Hero of the Republic of Cuba and the Order of Playa Girón by President Raúl Castro, during an event commemorating the 120th anniversary of the re-initiation of Cuba's War of Independence, on February 24.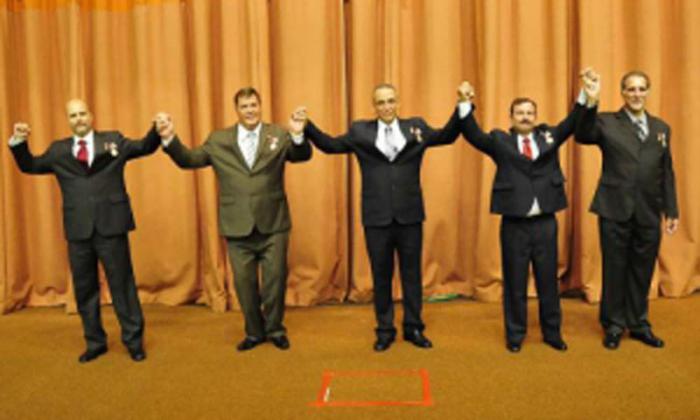 Gerardo Hernández, Ramón Labañino, Antonio Guerrero, René and Fernando González were arrested by U.S. authorities in 1998 and sentenced in a rigged trial to long prison terms for warning of violent acts launched against Cuba by terrorist groups based in U.S. territory.
In 2001, the National Assembly of People's Power granted them the honorary status that distinguished them as Heroes of the Republic of Cuba, but the pinning of the distinction on their chests had to wait until this day.
The imperative was the struggle for the liberation of these men, with the motto of the words spoken by the historic leader of the Revolution, Fidel Castro, when he said, "The innocence of these patriots is complete. I tell you just one thing: they will return!"
And they did return, after a struggle that mobilized thousands of people worldwide for a just cause.
Gerardo, Ramón and Antonio arrived in Cuba after being released last December 17; Fernando and René had previously returned after serving their sentences in full.
This February 24, they were recognized in a formal ceremony, "for having fulfilled with dedication, dignity and firmness the sacred mission of defending our country protecting it from terrorism, risking their lives and enduring enormous sacrifices in a hostile and aggressive environment."
For that dedication, dignity and firmness, they also received the Order of Playa Girón awarded by the Council of State.
Gerardo Hernández, on behalf of the Five, thanked Fidel, Raúl, the people of Cuba and all those across the world who made possible the release and return of himself and his companions to their homeland.
"The first thoughts of the Five today must be for a man whose leadership and strategic vision were decisive to the battle which led to our freedom, and who with his example instilled in us a spirit of struggle, resistance and sacrifice. A man who taught us that the word surrender does not exist in the dictionary of a revolutionary…Comandante en Jefe: this distinction which we proudly receive today is also yours," he expressed in words dedicated to Fidel.
Subsequently, the deputy and Havana City Historian, Eusebio Leal, traced the country's history, reviving voyages and heroes that led to the emergence of the nation. As an emotional climax, the children's theater company, La Colmenita, honored the Five and their example with the play Abracadabra.