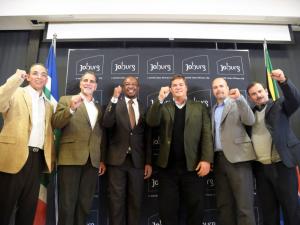 Johannesburg - The City of Joburg was graced with the presence of the Cuban Five at mayor Park Tau's offices in Braamfontein on Thursday.
Tau hosted a breakfast in honour of the Antonio Guerrero, Rene Gonzalez, Gerardo Hernandez, Ramon Labañino and Fernando Gonzalez.
They arrived in South Africa on Sunday. Speaking on behalf of the group, Fernando Gonzalez said he was grateful for all the support the five had received from South Africans.
"In the midst of the difficulties this city faces, the mayor and his leadership, who are working hard to overcome so many obstacles, still took time to do this for us," he said.
"International pressure, including from South Africa, played an important role in our release. A few months ago, we thought it impossible that the five would be back in Cuba and in South Africa today."
He said Joburg residents could count on Cuba and the Cuba Five to help and "stand in solidarity with you".
Tau thanked the men for their contribution to South Africa's liberation. "Cuba fought side-by-side with our own heroes in South-West Africa to help ensure the liberty of South Africa. You are celebrated heroes to many people… The City of Joburg will continue to remember the sacrifices you and your country made," he said. "We are privileged to have our Cuban comrades with us today."
The Cuban Five were intelligence officers who were arrested in Miami in the US in 1998. They were charged with several counts of conspiracy to commit espionage.
The Cuban government later admitted they were spying on Miami's Cuban exile community in the wake of terrorist bombings in Havana, organised by a former CIA operative. They were released as part of a prisoner swop with the US in December.
The Star