The five Cubans who were held in U.S. prisons for fighting terrorism this Monday arrived in Angola, where friendship and solidarity grew up in the long way to support their just cause.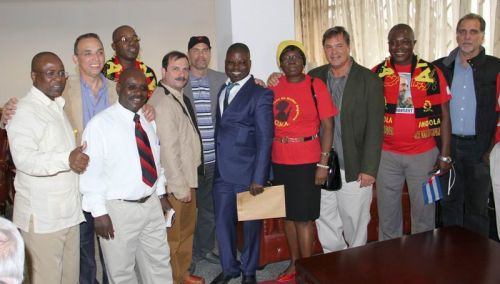 Like a masterpiece a duet, Angolans and Cubans, gathered since early today at the capital's "4 de Febrero" International Airport, greeted with passion, kisses and slogans to the heroes after the arrival of the SW-303 flight from Windohek, capital of Namibia.
"Welcome," General Armando da Cruz Neto, member of the Politburo of the ruling Popular Movement for the Liberation of Angola (MPLA), said at 11:17 local time at the airport after embracing and shaking hands with Gerardo Hernandez, Ramon Labañino, Antonio Guerrero, Rene Gonzalez and Fernando Gonzalez.
In addition to legislator Da Cruz, also chairman of the Angola-Cuba Parliamentary Friendship Group, other Angolan politicians, representatives of women's organizations in solidarity with Cuba and Cuban ambassador, Gisela Garcia, presided over the warm welcome.
According to their full 48-hour agenda in Angola, they will lay a wreath at the monument to Agostinho Neto, the first president of this African country.
Later, they will have a courtesy meeting with MPLA's Vice President, Roberto de Almeida, and then, visit the Alto Las Cruces cemetery to lay a wreath in the place where the remains of the internationalist combatant Raul Diaz Arguelles rested.
Angola is the third stage of the African tour (from June 21 to July 8) of the Cuban Five, as they are internationally known. They complied with an invitation by the African National Congress (ANC) of South Africa and the South West Africa People's Organization (SWAPO) of Namibia.