This page is also available in: Spanish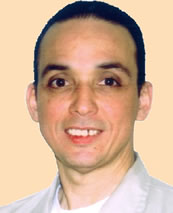 Antonio Guerrero
Reg. No: 58741-004
Quarters: APACHE A
Federal Correctional Institution
P.O.Box 7007
Marianna, FL 32447-7007
Antonio Guerrero was born in the city of Miami on October 16, 1958. As a son of Cuban immigrants he returned to Cuba in that same year. He graduated as an Airfield Construction Engineer from the Technical University of Kiev, in Ukraine. As an engineer he worked on the expansion of the Santiago de Cuba International Airport.
Antonio has published several books of poetry: "From my Altitude", "Confidential Poems", and others. Some of his poems have been put to music.
He has two sons: 22-year-old Tony and 15-year-old Gabriel Eduardo, who lives in Panama.
On September 12, 1998 Antonio was arrested. He was held in preventative custody for thirty-three months before the sentence was passed and was isolated in special cell, known as "the hole", designed for prisoners with serious disciplinary problems for almost 17 months prior to the trial and for 48 days after the verdict was passed. In February 2003 he was once again held in solitary confinement for almost a month without any reason being given.
His trial, held at the United States District Court Southern District of Florida, under Case No. 98-721-Cr-Lenard(S), began on November 26, 2000 and concluded on June 8, 2001, in Miami, Florida, home to over half a million Cuban exiles. Miami is a community with a long history of hostility toward the Cuban government - a record that a federal appellate court in the United States later described as a "perfect storm" of prejudice, precluding a fair trial.
Following his conviction, on December 27, 2001 he was sentenced to one life term plus 10 years of imprisonment for the charges of General Conspiracy, Conspiracy to commit espionage and Conspiracy to act as a non- registered foreign agent.
Antonio is serving his sentence at the Florence United States Penitentiary (USP) in Colorado.