This page is also available in: Spanish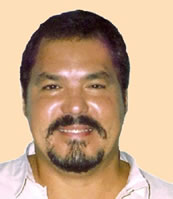 To write to Ramón Labañino address the envelope as following
Luis Medina
#58734-004
FCI Jesup
2680, 301 South
Jesup, GA 31599
---


Born in the City of Havana on June 9, 1963, Ramón Labañino graduated summa cum laude in Economy from the University of Havana in 1986. In 1990 he married Elizabeth Palmeiro and they have two daughters: 15-year-old Laura and 11-year-old Lizbeth. Ramon also has another daughter, 21-year-old Ailí, from his first marriage.
On September 12, 1998 Ramón was arrested. He was held in preventative custody for thirty-three months before the sentence was passed and was isolated in special cell, known as "the hole", designed for prisoners with serious disciplinary problems for almost 17 months prior to the trial and for 48 days after the verdict was passed. In February 2003 he was once again held in solitary confinement for almost a month without any reason being given.
His trial, held at the United States District Court Southern District of Florida, under Case No. 98-721-Cr-Lenard(S), began on November 26, 2000 and concluded on June 8, 2001, in Miami, Florida, home to over half a million Cuban exiles. Miami is a community with a long history of hostility toward the Cuban government - a record which a federal appellate court in the United States later described as a "perfect storm" of prejudice, precluding a fair trial.
Following his conviction, on December 13, 2001 he was sentenced to one life term plus 18 years of imprisonment for the charges of General Conspiracy, Conspiracy to commit espionage, False Identity and Conspiracy to act as a non-registered foreign agent.
In June 2008, the 11th Circuit Court of Appeals upheld the guilty verdict and the panel ratified the sentences of Rene Gonzalez and Gerardo Hernandez.  In the cases of Ramon Labañino, Antonio Guerrero, and Fernando Gonzalez, they were sent back for re-sentencing in the same court that convicted them in Miami.
On December 2009 Ramon Labañino was resentenced to 30 years.
After Ramon was recentenced he was transfered to FCI Jesup in Geoargia.