This page is also available in: Spanish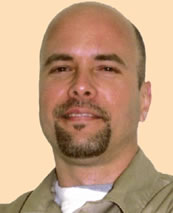 Gerardo Hernandez
NO. 58739-004
USP Victorville
PO BOX 5300
Adelanto, CA 92301
---
Born in the City of Havana on June 4, 1965, Gerardo Hernandez graduated in 1989 in International Political Relations from the Higher Institute of International Relations of the Cuban Ministry of Foreign Affairs.
From 1989 to 1990 he participated as an internationalist combatant in the war of liberation in Angola and against apartheid.
Gerardo is a caricaturist whose drawings have been published in the Cuban media and displayed in exhibitions in various galleries. A book containing his work was published in Cuba. Gerardo has been married to Adriana Perez O'Conor since 1988.
On September 12, 1998 Gerardo was arrested. He was held in preventative custody for thirty-three months before the sentence was passed and was isolated in special cell, known as "the hole", designed for prisoners with serious disciplinary problems for almost 17 months prior to the trial and for 48 days after the verdict was passed. In February 2003 he was once again held in solitary confinement for almost a month without any reason being given.
Seven months after his arrest the U.S. government amended his charges to include conspiracy to commit murder for the shoot down of two planes of the terrorist organization Brothers to the Rescue by the Cuban Air Force within Cuban airspace.
His trial, held at the United States District Court Southern District of Florida, under Case No. 98-721-Cr-Lenard(S), began on November 26, 2000 and concluded on June 8, 2001, in Miami, Florida, home to over half a million Cuban exiles. This is a community with a long history of hostility toward the Cuban government - a record that a federal appellate court in the United States later described as a "perfect storm" of prejudice, precluding a fair trial.
Following his conviction, on December 12, 2001 he was sentenced to two life terms plus 15 years of imprisonment for the charges of General Conspiracy, Conspiracy to commit espionage, Conspiracy to commit murder, False Identity and Conspiracy to act as a non-registered foreign agent.
After the trial, Gerardo was transferred to Lompoc U.S. Penitentiary in California, and later to Victorville USP, where he is serving his sentence at this moment.
The government of the United States has denied to his wife, Adriana Perez, the visa permits to visit her husband on 7 occasions.